Meet our team
Meet the Mykonos Yachting Team
Get to meet the people of Mykonos Yachting; a team of highly skilled and experienced professionals with unique personalities we are really proud of!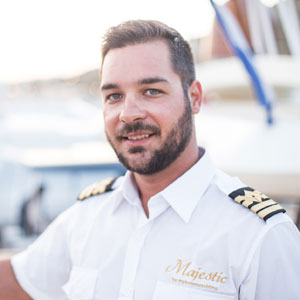 Dimitris
Captain, Discovery Glassbottom Yacht
Being a graduate of the Greek Maritime Academy, Dimitris has all the qualifications and skills that are required to cruise you almost everywhere! When he is navigating, you are in safe hands. Once you board, his politeness and friendly manners will surely make you feel like home!

---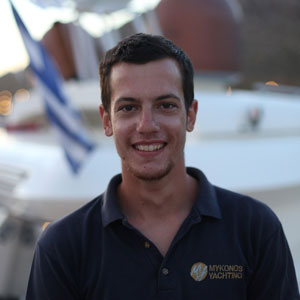 Philippos
Captain, Evo Marine 76 Flybridge
Philippos has been sailing for most of his life. Coming from a long line of sailors, he has expertise in almost everything related to sea and yachts. Give him any difficult mechanical puzzle and… he will not rest until he comes up with the solution!
---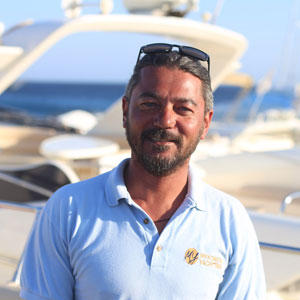 Alexandros
Captain, Azimut 46 Flybridge
Alexandros is a sea lover obsessive with the Cyclades, with many years of experience in his Curriculum. He is sophisticated, with a great taste in food and exceptional music knowledge. He is an authentic representative of Greek hospitality.

---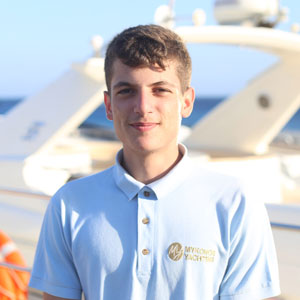 Fratzeskos
Captain, Dellapasqua DC13 Hardtop
The best thing about Fratzeskos is his ability to offer something to everyone. He is always cheerful and polite, while you will be amazed by the things he knows, regardless of being the youngest member of the Mykonos Yachting team!
---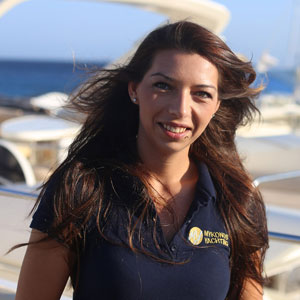 Alexandra
Stewardess, Discovery Glassbottom Yacht
Being a Hospitality and Customer Service Professional for the last 4 years, Alexandra truly knows how to assist you. Interaction with the people around her is her oxygen; learning something new every day is her passion. She is a silent force in disguise!
---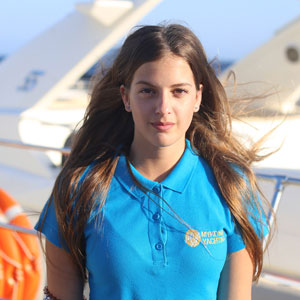 Eftichia
Stewardess, Azimut 55 Flybridge
What distinguishes Eftichia is her boundless energy! She is there to welcome you on board with a big smile and always on hand to assist you in everything. It is not a matter of coincidence that her name means "Happiness" in Greek!
---